A wooden watch is a timeless and one-of-a-kind accessory that may be used in your style statement. Many people prefer this fashionable wrist watch since it is a greener alternative to traditional watches. Even celebrities have been seen sporting wooden timepieces. It's not too late to own this iconic watch if you don't already have one. There are numerous methods to express your feelings regarding wooden watches and wear them. These helpful hints can be used at any time when a special occasion arises.
How do you Feel About Wooden Watches?
A natural wood watch is a wristwatch carved out of wood and adorned with unique materials. The mechanism within a wood watch is one of the most reliable mechanisms on the market. A mechanical or quart movement can be used. Quality is guaranteed regardless of which option you select.
How to Style a Wooden Watch in a Fashionable Way
If you recently purchased or are considering purchasing a wooden watch, you may be considering how to wear it properly. Even though this timepiece complements any skin tone, you may be thinking about what kind of outfits will go well with it. Here are a few fashion tips for wearing your wooden watch with style:
1 Wear a Fitting White Tee for a More Natural Look
Wearing a plain v-neck blouse or a simple tee with your wood watch is a subtle way to rock it. It simply states that you do not always need to dress extravagantly to appear fashionable. A basic white blouse and a gleaming wooden timepiece might be enough to attract notice. Pair the outfit with a pair of classic blue jeans and comfortable running shoes.
2 Opt for the Analogue Look
Wooden watches are available in a variety of styles. If you're not sure which one to choose, an analogue wooden timepiece is a good option. This style usually includes traditional motifs that can be worn with modern attire. It can assist in achieving a natural and timeless appearance.
3 Wear Sportswear to go With your Wood Watch
Who says you can't be stylish while wearing athletic wear and a wooden watch? This outfit is excellent if you're going on an outdoor excursion or a sports adventure. It's a great place to stay whether you want to go to the beach or watch a baseball game. Your athletic outfit can be spiced up with a wooden watch. You may even enjoy the sporting vibes by wearing your favourite wristwear.
4 Dress Professionally to Express Yourself
You may obtain a fashionable look in any setting with a wooden timepiece, from formal to casual. This accessory can help you create a fashion statement even when dressed for work. Your coworkers will be astounded if you wear the wooden watch to work. It's a one-of-a-kind addition to your business casual ensemble.
5 Wear Monochrome Clothing to Look Stunning
Almost anything goes with the wooden watch. This timepiece easily matches your clothing with all of the accessories available. If you prefer monochrome ensembles, a wooden watch might help you achieve an attractive look. The wood texture and exquisite wooden timepiece add to the neutrality of the outfit.
6 Keep it Basic with a Button-Down Shirt
If you prefer to wear button shirts to family gatherings and casual occasions, a wooden watch will keep you looking attractive. You'll be able to attract the public's attention because it looks great with this stylish outfit. If you choose, you can roll the sleeves of a button shirt if it is more comfortable for you.
7 Dress it up with a Suit and Tie
Wooden clocks are elegant and simple at the same time. It looks best when worn with a suit and tie. The accessory's neutral colour blends very nicely with the suit's classic style. The wooden watch's brown colour goes well with a navy outfit. A pair of brown wingtip shoes and a brown belt will go well with this outfit.
8 Only Wear a Watch on your Wrist
A variety of accessories can be used to enhance your overall appearance. If you don't like wearing many jewellery pieces, though, a wooden watch is a good option. This body decoration can be all you need to make a stylish statement. All you have to do now is choose the best colour for your skin tone and the appropriate style for your fashion preferences.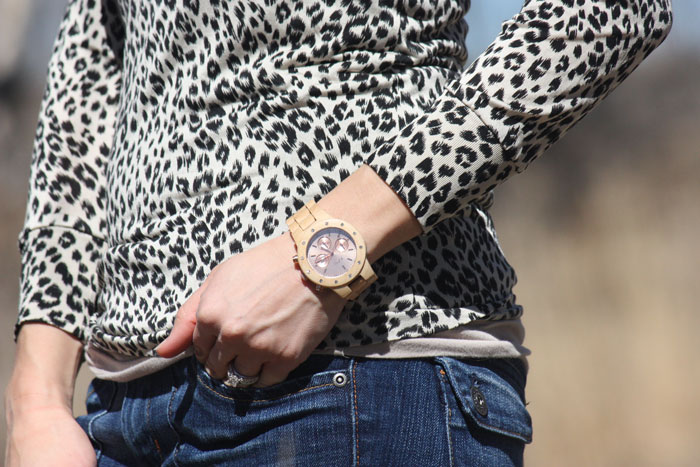 Why Do People Wear Wooden Watches?
Finding the perfect one can be complex, with so many watch styles to choose from. You must evaluate the watch's colour, size, and even the materials utilised in its construction. Many people prefer traditional timepieces when purchasing one. The majority of these timepieces are composed of metal or plastic. The wooden timepiece is also worth considering in terms of aesthetics. One of the many reasons to appreciate a wooden watch is its individuality. Because they are made of different wood textures and designs, no two wood watches are alike. These accessories have been painstakingly crafted to set a significant fashion trend. It's no surprise that many fashion icons and celebrities wear them.
Because wooden watches are light, they can be worn comfortably and conveniently. Because these things are hypoallergenic, they can be worn by anyone without fear of developing skin allergies. Apart from that, wooden watches are environmentally beneficial because they are built of renewable materials. So, if you're looking for eco-friendly gifts for the holidays, this clock is a great choice. It's a lovely gift that you can offer to your parents, siblings, friends, or even yourself.
It would be best to consider getting a wooden watch as a must-have accessory. If you need something that goes with any style, this might be your go-to piece of jewellery. This timepiece could be your finest choice if you're looking for an accessory that you can wear on any occasion. One of the primary reasons many fashion superstars adore it is its adaptability. Information about wooden watch is an excellent choice if looking for environmentally responsible gifts.
Would you like to learn more? 
Check out our full range of handmade wooden watches today!